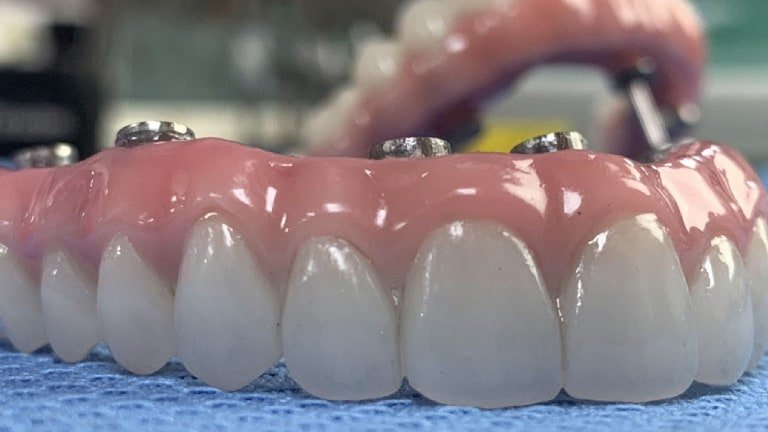 Here at Center For Implant Dentistry it's common for people to come in for a free consult, get a free 3D CT scan and be discouraged at the price. When it comes to investing in yourself and your teeth that help feed you and keep you healthy we don't cut any corners or sacrifice any quality. We believe it's worth every penny and try to help our patients receive the best and most affordable care for them as much as possible. Why are All On 4 Implants so expensive? Check out these 9 factors that tell you why:  
Geographic Location
If you're looking to get implants where the cost of living is higher, most likely the cost of any dental treatment is going to be higher. 
Geographically if you're in an area where there are more dentists, the cost is going to be much cheaper.
Generally the cost can vary anywhere between $40,000 – $60,000 for both upper and lower arches just based on the location of treatment and procedure alone.  
One Provider vs. Two 
 What you'll find at most dental offices is that traditionally there is a surgeon that does the surgery which is Phase 1. Phase 2 is where a general dentist or a prosthodontist does the restorative work such as building your final implants.
 The ideal scenario is finding a doctor that is responsible for the whole job from start to finish. From the initial consultation to the making of the teeth to final implant placement, it's all done under one roof.   
Ideally you want to find a dentist that specializes and has experience placing dental implants, and has been trained in the making of the teeth and best case scenario even has lab technicians on site. 
The ultimate top proven results come from one doctor that has a lab who 
has control over all of these aspects otherwise you could end up waiting months for your teeth to come and even more time waiting if they aren't made correctly the first time. Labs like this are more likely to offer a warranty so you are guaranteed repairs if needed.   
Doctor Experience Level 
It's not that most dentists don't have the general knowledge of dental implants, but it's the level of experience that counts the most. You want to put your trust in a doctor that has taken the time to be technically trained and has taken the time to learn and do All On 4 full mouth implants.
Number and Types of Implants
Each patient and their needs are unique. It's difficult to say how many implants or what kind of implants you need unless you are seen by a doctor. Typically you need to have a 3D scan taken so the doctors can see how your mouth moves, what your parameters are, if you have any bone loss from dentures or anything else they might need to know to give you a precise number of the cost of your new teeth. 
Types Of Devices Used
The number one reason why people look for implants is cosmetic reasons, second is they want to be able to chew and eat their favorite foods again, third is that they are in pain and lastly is they are just tired of spending money on dentistry over and over! 
From cheapest material to more expensive you have an acrylic bridge that is mostly or all acrylic. The next up is resin, used to make a bar to go under the teeth sometimes called Trinia, or a fiberglass material. Up from that you have Trilor or Pekkton substructures that can take the place of these cheaper materials. Titanium is the preferred substructure of most practices and wins for durability and wear. Next we go up to a Zirconia substructure, but we shy away from this because it is very rigid and hard and easily breaks or deteriorates over time. The most beneficial trend which moves away from rigid and rock hard structures is a polymer made teeth with a titanium bar that screws into the implants.  
Anesthesia Level Chosen 
Generally you'll have 3 choices for anesthesia. If you don't mind being 100% awake, your first option is local anesthesia that will numb your mouth so you won't feel a pinch. Leveling up you have the option of IV or oral sedation, which is the most popular option recommended for patients with high anxiety and it should help you relax and ease into a "sleep state" or "dream state" and can feel like you are floating on clouds. Because surgery can be over 4 hoursin some cases, this is what is recommended for most patients. General anesthesia would be your most expensive option, putting you 100% asleep and starting at a jaw dropping (pun intended) 5 grand. A 3rd person, a medical anesthesiologist, would be needed to be brought to the office to administer this kind of sedation.      
Patient Risk Factors 
Risks of All on Four implants can be high in patients that are smokers, diabetic (uncontrolled) or someone generally unhealthy. For those that struggle with hygiene, doctors properly analyze the likelihood of the patient being able to heal properly after the procedure. If it's an easy case with less risk involved it will most likely not affect the price too much.   
Advanced Techniques
Advanced techniques are protocol for high risk patients. An example that isn't uncommon is what's called a sinus lift or sinus grafting for implants. Sometimes a patient's bone structure puts them as a candidate for this if their sinuses are too big and don't allow room for proper implant placement. This is a time consuming procedure and the cost is adjusted to accommodate that.  
Time Frame 
It's not abnormal that this process from start to finish could take 6 months to 1 year at most practices. You could find a more advanced office that could take a little less time such as a week or a few days. Since most offices don't have their own lab you will have to go back and forth as they adjust your new teeth and place temporary teeth while you wait. 
This is why it's stressed you find implantologists that are experts in what they do and that are involved in every step of the way.  
Cost Breakdown:
We get it, you just want to know how much it's really going to cost for All on 4 Implants. With all these cost factors in play you're looking at the cheapest from $15,000 per arch which is ideal for low-risk patients who maybe already have dentures. For patients that are looking for a full upgrade with customized gum color or you have health risks or a high smile line that needs to be adjusted you are looking at $20,000 to $25,000 per arch.