Sedation is a medical technique used to relax a patient and reduce anxiety or discomfort during medical procedures. Sedation is used in different medical procedures such as surgery, endoscopy, and other dental procedures, such as getting dental implants in San Jose. 
We offer several sedation dentistry options to relieve mild to severe dental anxiety and fear. The types of sedation supplied at the Center for Implant Dentistry include IV sedation, oral sedation, nitrous oxide, and general anesthesia.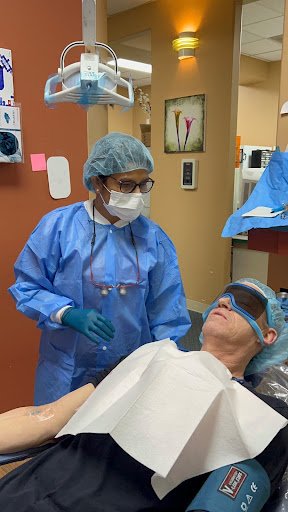 IV Sedation Dentistry
In this process, first, an IV line is directly inserted into a vein in your arm. This IV line makes sure that you have a constant supply of IV sedation. That way, you'll be aware, however you are quite drowsy during the duration of the procedure.
While in the dentist's chair, you may relax and feel protected, knowing that you're getting professional dental treatment without the worry and pain. We keep a close eye on your vital signs and use an oxygen mask to make sure you're breathing properly.
Oral Sedation Dentistry
Your dentist will give you soothing medicine approximately an hour before your treatment begins using oral conscious sedation. Most dentists prescribe triazolam, a diazepam derivative. Other drugs, such as zaleplon and lorazepam, may be used by your dentist. In pediatric dentistry, liquid sedation is used.
Oral sedation makes you feel groggy. However, you will be able to interact with your dentist if required, and you will be gently nudged awake. You'll need someone to drive you home following your treatment since oral sedation temporarily impairs your memory and motor abilities.
Nitrous Oxide Sedation Dentistry
Nitrous oxide sedation, also known as laughing gas, or inhalation sedation, is the mildest form of sedation offered in dentistry today. 
Get Your Dental Implants in San Francisco for a Better Smile!  
We advise inquiring about the tooth implant treatment with your dentist to stop jawbone deterioration. When you lose a tooth, a dental implant will cover the gap in your smile and stimulate your jawbone like the tooth's root would. In the long run, this preserves your face's contour by preserving the jawbone.   
Modern dentistry offers a wide range of excellent tooth replacement choices if you've lost one or more teeth. Dental implants, however, are one of the greatest treatments available if you qualify for them; they're adaptable, strong, and function to restore your teeth while preserving your short- and long-term oral health. When properly maintained, they become a lifelong component of your smile, preserving its health and beauty. Call us for more information!