Full Arch Dental Implants Fremont, CA
A4 Complete Implant Solution at Center for Implant Dentistry, Fremont
Watch Testimonial
HOW MUCH DOES ALL-ON-4 COST?
All on 4 dental implant procedures are more expensive when compared to other dental procedures. Whenever someone searches for All on 4, the first thing they need to know is how much does all on 4 dental implants costs. At Center for Implant Dentistry, we offer All-on-4 implants for $14,990/jaw which includes 4 implants and 12 teeth.
A BRAND NEW SMILE IN JUST THREE TO FIVE DAYS
Are you relying on an ill-fitting denture to meet your functional and cosmetic needs? Do you have severely damaged or missing teeth that need to be replaced but aren't quite sure how to fully restore your smile? At Center for Implant Dentistry, we have a wonderful solution: A4 Complete implant-supported dentures. A4 Complete Implant is an innovative system that can stabilize a denture with just four implants. This comfortable procedure can be completed in three days!
THE BENEFITS OF A4 COMPLETE IMPLANT SOLUTION
For several generations, the traditional denture has been the only practical solution for edentulism (missing teeth). That is no longer the case thanks to the wonders of modern implant dentistry. A4 complete implant-supported dentures provide immediate results that are functional, comfortable, attractive, and permanent.
Due to precision placement, we only need four dental implants on an arch to stabilize a full denture. Bone grafting, which often adds time and expense to the implant process, is rarely necessary with this technique. The gentle, efficient process can restore functional chewing, end the discomfort of sloppy dentures, and preserve the health of your jawbone.
When compared to dentures, all on 4 has several benefits like:
Minimal recovery time
No need for Bone grafting
Easy maintenance
Patients can eat all kinds of food
Aesthetic appearance
Long term results assured
Overall cost is reduced when compared to single implants
Patients can typically return to work quickly after the procedure
Benefits of All-on-4/All-on-6 Full Arch Dental Implants
Dr. Sambhav Jain has used his background in mechanical engineering and extensive CAD/CAM knowledge to create a state-of-the-art onsite milling center for manufacturing high-end implant prosthetics. With this approach, the teeth and gums are created in one single piece for a more natural-looking appearance.
Our full arch dental implant solution offers benefits that are simply life-changing.
• Permanent tooth replacement
• Far greater stability than dentures
• Highly esthetic, natural appearance
• Reduced need for bone grafting
• Enjoyment of favorite foods
• No need for denture adhesive
• Maintain facial contours
• Minimal recovery period
• Improved quality of life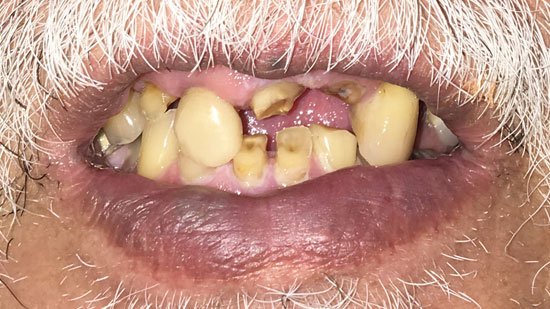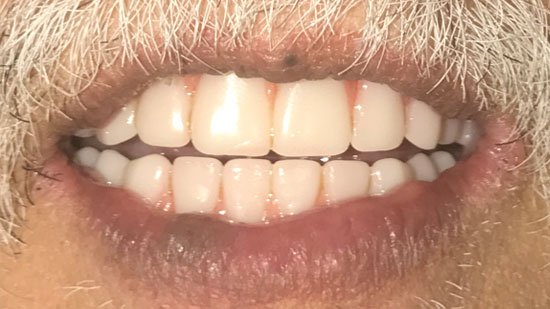 Full Arch Dental Implant Case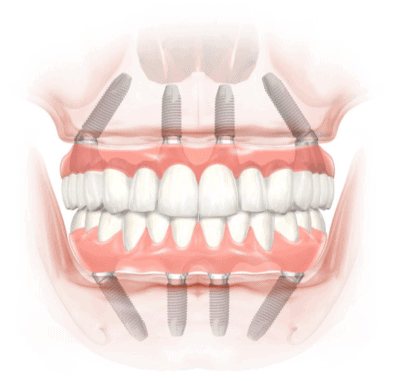 Implantology is sometimes considered rather new, although the modern procedure was first developed over 50 years ago. Since that time the methods, technology, and materials used by implant dentists have improved dramatically. The traditional technique for implant-supported dentures would require a minimum of six implants to stabilize a denture as well as a full year to complete treatment, in most cases. Because denture wearers often experience bone loss, grafting would typically be included in the restoration process.
A4 Complete Implant Solution is a streamlined approach, scientifically developed to achieve equal or greater results with fewer steps in less time. Our office is a complete dental implant center, where every phase of the process is completed by skilled dental professionals in one location. We will begin with a consultation and will take X-rays, CAT scans, and impressions to support surgical planning.
Implant surgery is surprisingly fast and comfortable. While local anesthetic is administered to facilitate comfort throughout the procedure, we also offer sedation to calm nerves and make the visit seem to go by very quickly. If necessary, extractions will be performed before the strategic insertion of dental implants. We understand that placement is the key to achieving superior stability with only four implants and creating a sound foundation for dentures through the utilization of 3D computer imaging to guide our surgical performance.
The A4 Complete implant-supported denture can give you back your smile. Call (510) 570-1065 to schedule your consultation at the Center for Implant Dentistry in Fremont, CA.