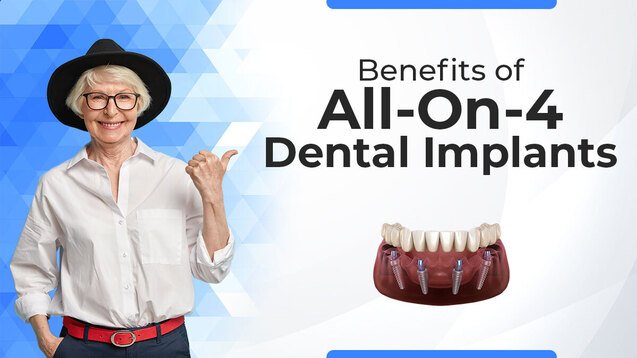 Have you lost your teeth and wondering what to do next?
Go with the permanent solution!
Yes, replace all of your teeth with the All-On-4 Dental Implant Technique. The All-On-4 Dental Implant is the most long-lasting, functional, and aesthetic restoration. All-On-4 Dental Implant is a surgical procedure in which the teeth being replaced are supported with four dental implants. This implant requires only four strategically positioned titanium implants on the top and the same at the bottom of the mouth. The titanium solution used in the implant has a unique characteristic of getting permanent which fuses to the surrounding living bones over the course of several months that feels like an absolute relief—this surgical procedure in dentistry is mainly referred to as prosthodontics. The prosthodontics procedure is carried out to fully rehabilitate the dental health of a patient who has broken down badly, teeth that have decayed, and teeth that become unhealthy due to some serious gum disease. The rehabilitation process is not a single-step process, and on the contrary, it can be done by several procedures such as dentate maxilla or edentulous. The process can also be performed through a prosthesis where the four implants are placed in the anterior maxilla in the region where the bone density is the highest. Prosthesis consisting of about ten to fourteen teeth is immediately placed on the four implants which support it. The placement of the prosthesis is usually done twenty-four hours after the implants have been fixed through surgery.
Let's look into some of the benefits of All-On-4 Dental Implant.
All-On-4 Dental Implant is a much more convenient and affordable option compared to other tooth replacement options. Despite a couple of side effects, the benefits of All-On-4 Dental Implant have the edge over pros and cons.
I. No more frequent knock-knock in the dental clinic-
If you want to avoid regular sessions with the dentist, you must try All-On-4. You just need to visit the dentist once; in fact, spare a few hours, and you are done!
II. Pocket friendly-
All-On-4 Dental Implant is a much cheaper option than other tooth-replacement techniques. Instead of repeatedly paying for single teeth replacement, All-On-4is a one-time solution that provides permanent relief at a reduced cost.
III. Avoid Bone grafting
You can avoid Bone Grafting in All-On-4 Dental Implant. A bone graft is usually necessary when the underlying jaw bone of the dental patient is weak or insufficient to support a dental implant. It's not obligatory while undergoing All-On-Four Dental Implant Surgery.
IV. A Full Set at once
What's more impressive than getting a complete set of teeth in just one surgical procedure? Yes, and that's how the All-On-4 impresses us. It's the most efficient implant surgery, which has the advantage of getting completed at a go.
Apart from these benefits, All-On-4 Dental Implant has some more advantages while comparing it to other ventures, such as –
Next to no recovery time
Trouble-free maintenance
Not staying away from food
Aesthetic appearance
Permanent solution
You can typically return to your work from the next day
An all-On-4 dental implant is undoubtedly a magical way to restore the smile on your face. To know more about the entire process, feel free to contact us!