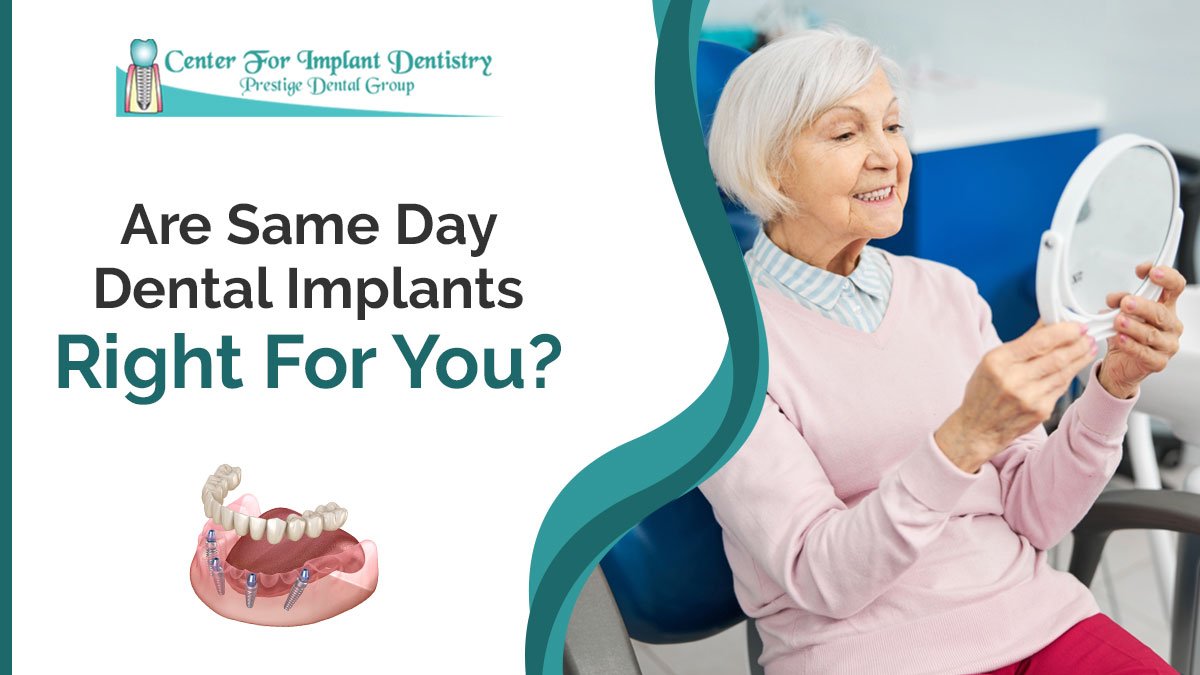 Introduction
Do you experience excruciating agony from a bad tooth? Alternatively, perhaps you just lost a tooth and are now sporting a less-than-ideal smile. Do you want to know how to get your beautiful whites back?
You're lucky since same-day dental implants have gained much popularity. Traditional implants might take months to complete. However, with same-day implants, your smile might be fixed quickly.
How do same-day implants function, though? Are they safe?
We'll go through every detail of same-day dental implants with you. Before you know it, you may have a brand-new, brilliant grin!
The Procedure for Same-Day Dental Implants
Depending on the number of transplanted teeth, same-day implants can often be completed in a single process lasting anywhere from 30 minutes to 3 hours. You won't leave the office with your permanent teeth, and it's vital to remember that. You will, however, go grinning broadly.
How does that function?
Your gums and jaw still need time to recover before receiving same-day dental implants. As a result, crowns cannot be placed in the mouth until completely healed.
On the day of your treatment, temporary teeth will be provided. You will receive permanent teeth to replace the temporary ones after your mouth has recovered completely. This entails a complete smile from the first day and a permanent smile after a few months.
Different Kinds Of Same-Day Dental Implants
The construction of dental implants varies. The kind of implant you'll have will significantly impact how long your treatment will take and how long you'll need to recuperate. The many different types of same-day implants consist of:
Full-Arch Dental Implants

The jaw is divided into multiple "arches" by the jaw. You'll get a full-arch dental implant if all or most of the teeth in one arch need to be replaced. Full-arch implants come in two main varieties.

Single-Tooth Dental Implant

This is the placement of a single fake tooth, commonly referred to as a crown. A tiny titanium implantable device must first be inserted into the gum to be implanted, and this will support the tooth by serving as an artificial "root."

Typically, porcelain or ceramic is used to create the crown. The dentist will take extra care to ensure that the crown blends well with the rest of the teeth. In this manner, it won't be possible for anybody to distinguish between the artificial tooth and any other teeth in the mouth.

Implant-Supported Dentures

This is a type of replacement where your regular denture is supported with implants inserted into your jawbone. All the implants are attached with an abutment to support the prosthesis.

With dentures, receiving your permanent teeth occasionally takes a little longer. This is because the procedure needs a personalized treatment approach. You'll yet leave the office grinning broadly in any case.

The kind of implant best for you will primarily rely on your circumstances. During your initial appointment, your dentist will assist you in making a decision.

TeethXPress Dental Implants

The essential components of this kind of implant are the same as those in single-tooth implants. The prosthesis will, nevertheless, look like an entire arch of teeth. Additionally, you'll get fewer titanium implants placed on each tooth.

The titanium in this implant will cling to your jawbone. Temporary teeth will be provided during the session due to the time needed for the jaw to recover.
Get A Stress-Free Smile Right Now!
Don't delay if you believe you could be a candidate for same-day dental implants. To arrange for your initial consultation, get in touch with our office. Just one click can get you your ideal smile and quick dental relief!