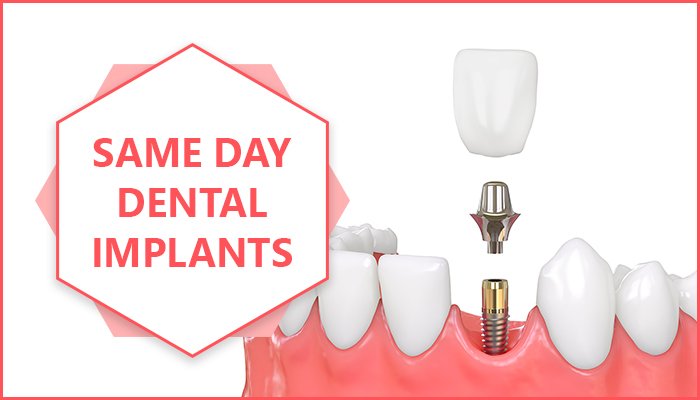 Missing teeth are not at all funny. It feels inconvenient, uncomfortable, and embarrassing. Waiting for your new set of teeth feels very annoying. For this reason, same-day dental plants were invented. People get benefited from dental implants, but they find it very inconvenient waiting for their new set. This is the reason why one-day dental implants turn out to be a great option for patients.

One day dental implants are the same as the general process of getting implants, it's just quicker and the crown is attached right away after the surgery.
Who is an ideal candidate for one-day dental implants?
You need to consult your dentist, whether you are the right candidate for same-day dental implants. Your dentist will evaluate to find out whether you have good oral health and overall physical health. This implies that if you are suffering from autoimmune disease, chronic disease or hygiene issues you won't be able to get implants instantly. For getting an immediate implant treatment, you must have a completely healthy mouth and body.

Benefits of same-day implants
There are various benefits to same-day implants given below:
The most obvious one is that it's less time consuming which means your time spent with dentists reduces and you get a new smile in just one visit.
With immediate dental implants, you require only one surgery which helps the gums to grow around the crown better. Gums fit around the crown better with one-day dental implants.
Risks
There are various risks associated with one-day dental implants. Common risks are implanted movement increases risks of failure, suitable for certain situations, infection, pain, etc.
If you require same-day dental implants, visit us at CID and get the best instant treatments for your missing teeth.