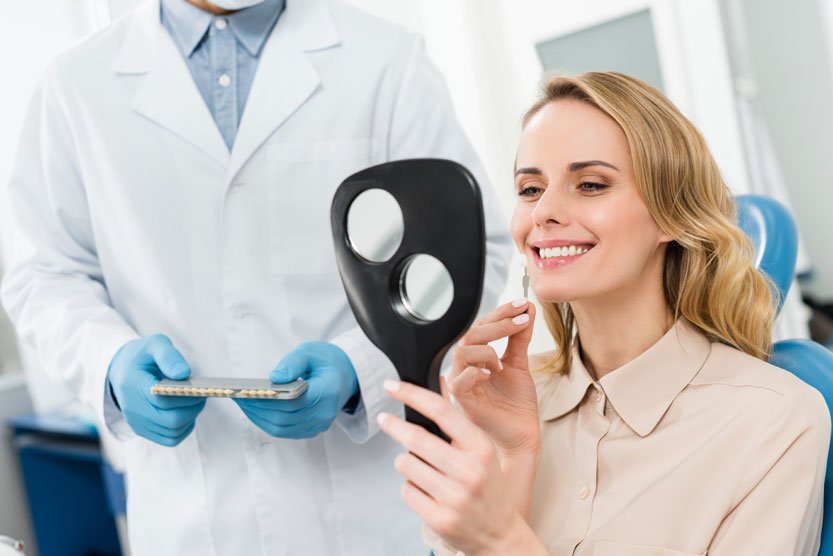 A dental implant is nothing but a small titanium screw that is surgically placed within a patient's jawbone, right beneath their gum line. This screw then infuses itself with the jawbone, creating a stable foundation for tooth restoration. A dental implant screw acts as a replacement for the patient's missing tooth root. Not only that, but it also strengthens and preserves the patient's bone structure. After the implant is set in its place, the dentist will fit a restoration on top of it. It could be a single crown that replaces one tooth. But in some cases, dental implants are also used to support multiple missing teeth with a bridge and or secured dentures. With proper care, dental implants can last a lifetime. Dental implants have a success rate of 98%. Most dentists recommend dental implants as a go-to option to replace missing teeth. If you have broken, chipped, or missing teeth, you should probably get dental implants. There are different types of dental implants like:
Types of Dental Implants
This is one of the most used implants; patients who want to replace a single tooth opt to get a single tooth dental implant. It only requires one screw and one crown.
If the patient has multiple missing, decayed or broken teeth adjacent to each other, they are recommended to get an implant-supported bridge. A dental bridge consists of two crowns on either side of the patient's missing tooth gap, with an artificial tooth that is held in between by those two crowns. Unlike a regular dental implant, an implant-supported bridge has crowns directly connected to the dental implants.
These are used when the patient wants to replace all the teeth on the upper or the lower jaw. A denture is an artificial arch of the teeth that rests on the gum line of the patient. They have an appearance similar to a complete set of teeth. In this treatment, the denture is directly secured in the mouth of the patient with the help of four strategically placed dental implants. Now that we have discussed what dental implants are and what the different dental implants are let's get into how much a patient has to pay to get them?
A patient can expect to pay up to $1000 to $3000 for a single dental implant—the price increases on the number of dental implants the patient needs. The client can expect to pay around $3000 to $30000, but we at Center of Implant Dentistry try to limit the amount we charge as much as possible, as we want more and more people to have access to a beautiful looking smile they like. One must know that they aren't just paying for hardware that is used to attach the tooth. Still, the patient is also paying for the expertise of our team of dentists, diagnostics, precision that is required in the procedure, and labor associated with the surgical procedure. The cost of the system may seem a bit high at first glance, but we assure you that our reasonable payment plans make the cost as affordable as possible.
How long does a dental implant last?
Dental implants are considered cost-effective because they are a long-term solution to multiple dental problems the patient may be suffering from. The client can expect a dental implant to last for 10 or 15 years. If one takes excellent care of the implants and has annual cleanings, they may even last a lifetime. Dental implants are better than dentures because there is a chance that you could lose or damage them. There is a possibility that you end up spending more money by replacing it multiple times.
Could dental implants fail?
As we mentioned earlier, the success rate of dental implants is 98%. Hence, there is a possibility that the dental implant may fail, but it is not as common as it once was. In many cases, dental implant failure is avoidable. If the client does not take the implants by regularly brushing and flossing them, they could be putting themselves at risk of infection and other complications. The client must have annual cleanings of the implants. Certain health conditions like rheumatoid, diabetes, lupus, arthritis, multiple sclerosis could fail the implant. Some medications also make you more vulnerable to dental implant failure. So we ask you to openly speak to our dentists about all your medical conditions if any. So, they can thoroughly evaluate a treatment plan that caters to your needs.
Conclusion
Dental implants can give you back a smile you used to love. Dental implant costs vary from patient to patient, but we can assure you that you get the best treatment possible. We at the Center for Implant Dentistry personally take care of every step of the implant procedure. We have all the resources and expertise available at our practice; you would not have to go through multiple dental practices to get the smile you deserve. Not only that, but we assure you that we will take good care of your teeth.