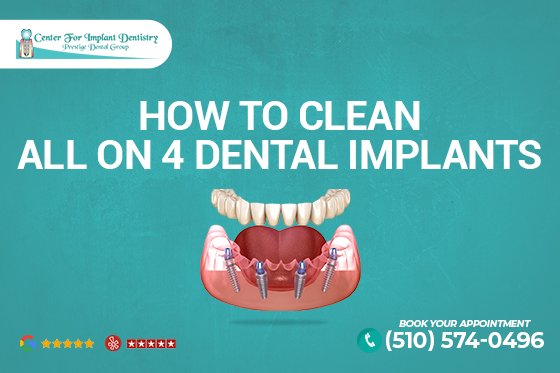 Introduction
If you have a dental problem, most likely with your teeth or dentures, it was almost certainly caused by poor oral hygiene. At the Center for Implant Dentistry, we've seen a wide range of oral issues resulting from poor oral or dental hygiene. The majority of the patients who visit us are confused about caring for their implants or dentures properly.
We will provide you a complete guide that means a step-by-step guide on how to clean your all-on-four dental implants. For patients who are missing teeth, all-on-four dental implants have shown to be a fantastic option. All-on-four dental implants are a set of four implants strategically placed in your jaw to support an entire arch denture.
Why Do I Need to Do an All on 4 Dental Implants Cleaning?
Cleaning all four dental implants, just like natural teeth, guarantees that you can maintain your teeth or dentures for as long as feasible. Typically, food material on or under the dentures decomposes after meals due to bacterial action. If you do not make it a habit to brush your teeth regularly, bacteria will grow and cause damage to your dental implants. Implant dentures that are kept clean will last a lifetime. Failure to clean your dental implants might result in implant failures due to periimplantitis, an infection caused due to poor oral hygiene, and ill-fitting dentures.
Cleaning All on 4 Dental Implants
Do you have temporarily fixed bridges or all-on-four dental implants for the long term? Do you want to know the best approach to clean your all-on-four dental implants? Implanted teeth, like natural teeth, are susceptible to bacterial deterioration and infections. You may have heard the term "brush your teeth after every meal" as a child. Well, this is still one of the most basic strategies to maintain good dental hygiene. After each meal, cleaning the mouth or the oral cavity and especially around the implants guarantees that the debris from the implants is dislodged before it sticks to your dentures and becomes a bacterial breeding ground.
The Process of Cleaning All on 4 Dental Implants
Cleaning all four dental implants necessitates a methodical and meticulous approach. A well-defined procedure will ensure that dental implants are thoroughly cleaned, and implant dentures are clean. This treatment entails cleaning your dental bridge, cleaning your full arch dental implants, and ensuring that the inside surface of your mouth is free of food particles that could cause complications with your dental implants later on. Cleaning all four dental implants is a simple process that can help you maintain good oral health.
Step 1: Remove Food Materials on Your Teeth
Use a soft toothbrush to remove larger chunks of food stuck on your bridge, dentures, or implants. When removing food lodged between the teeth or in other dental fissures, an interdental brush or floss comes in handy.
Step 2: Use Super Floss with Implants
Floss can be used to remove food particles from under the bridge and between the teeth. Floss is helpful because of its flexibility and ability to reach areas where a toothpick or brush would be unable to. Once a day is the minimum suggested frequency. However, you will see better and longer-lasting results if you use it more frequently. Make sure you floss your implant restored teeth and your fixed dentures before going to bed. Food debris left out while cleaning can attract bacteria at night, especially when there is less saliva to absorb and wash away the waste.
Step 3: Clean the Surface of Your Tongue
If you brush your dental implants but leave food residue on your tongue, the cleaning isn't as thorough as it should be. To keep your full arch dental implants safe, you'll need to clean your mouth thoroughly. As a result, brush the upper surface of your tongue in the same way that you brush dental implants.
Step 4: Rigorous Cleaning
The next step is to wash your teeth thoroughly with a gentle brush. During this process, keep your brushing to the area surrounding the dentures and near to the gums. Dentures should be cleaned using a standard brush. Investing in an electric toothbrush, on the other hand, is a terrific idea because they are more effective than traditional brushes. Electric toothbrushes are more effective than ordinary toothbrushes and reduce brushing time by several times. It is recommended that you brush your teeth with non-abrasive toothpaste. This is critical, especially if the teeth on your bridge are made of acrylic.
Step 5: Mouthwash
An easy but very effective way to maintain your hygiene which should be done in conjunction with the above-said practices is regular use of antibacterial mouthwash is also recommended to reduce the microbial accumulation around your implants and your fixed denture replacements. apart from keeping the oral microbiome at bay mouthwash also gives you a good and refreshing breath.