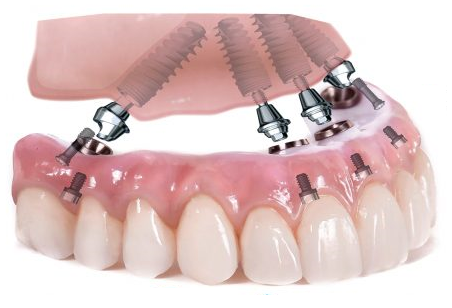 If you're tired of your dentures or have problems with missing or infected teeth, you may have begun your search on dental implants or you may have been referred to a dental implant surgeon by your general dentist. If you don't know much about dental implants just yet, you have come to the right place. Center for Implant Dentistry in Fremont, CA specializes in all on 4 and all on 6 dental implants. You may be wondering what's the difference and which one is right for you.
First off, what are the similarities?
All on 4 dental implants and all on 6 dental implants both involve:
Surgically placing dental implants in either your top jaw, lower jaw, or both jaws
Supporting a full jaw of permanent teeth. Instead of needing a single implant for each missing teeth, all on 4 or 6 allows you to have 4 or 6 implants that acts as roots.
Teeth extractions and dental implants all placed in one day during surgery
New teeth 2 to 4 days after dental implant placement
What are the differences between All On 4 and All On 6 dental implants?
All on 6 dental implants, which we highly recommend for your long term benefit, offers more stability throughout your jaw to hold the new teeth in place.
All on 6 offers more strength to your jawbone. People with dentures have a sunken jaw after removing their dentures because of the lack of strength for your jaw. This isn't the case with all on 6 dental implants.
Whichever one you choose, both All On 4 and All On 6 are great choices when you're considering full mouth reconstruction. All On 6 simply provides much more stability and strength in the long run. When you come in for a free consultation, Dr. Jain or Dr. Gupta will discuss you what treatment options would best suit your needs and lifestyle.