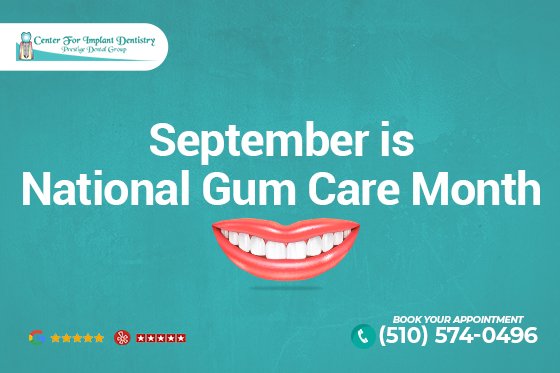 Introduction
Everyone desires dazzling white smiles. but the supporting systems beneath the teeth, such as gums and bones, are probably even more important than the teeth themselves.
To commemorate National Gum Care Month, I'll go over more about gum health and how you may maintain a healthy smile for the rest of your life. The dentist and hygienist will examine your gums when you come in for your routine dental exam and cleaning. Periodontal therapy may be advised if your gums are particularly irritated or if you have a lot of tartar buildup.
What is periodontal therapy, and how does it work?
Periodontal therapy, also known as deep cleaning or root planing is a treatment that involves mechanical debridement of plaque and calculus down to the root of the affected tooth and smoothens out the rough areas on the root surface to prevent future consequences. To further clean and disinfect the gum tissues, liquid antibiotics and a specific diode laser application are utilized. This procedure may necessitate several visits to finish the treatment. It is more thorough than regular cleaning and is intended to cure gum disease and prevent it from worsening.
What's the difference between regular teeth cleaning and periodontal therapy?
Regular brushing and flossing twice a day is highly recommended since your mouth is full of bacteria and plaque. Routine cleanings aid in the removal of plaque that accumulates on your teeth over time. The majority of plaque is situated near or below the gum line, where we often overlook it.
If plaque is not removed, it hardens into tartar in a short time, which must be removed by a dental professional. Your gums may display signs of gingivitis – red, swollen gums that bleed easily when touched – if routine hygiene is not maintained or if you have a genetic predisposition to gum disease. If left untreated, this may lead to periodontal disease, an inflammation of the gums and bones that support your teeth that can lead to tooth loss. X-rays and pocket depth readings are used to determine whether or not an infection is present. Interceptive gum therapy is indicated when there is evidence of this infection to prevent disease progression.
Comparing routine teeth cleaning with periodontal therapy is almost like comparing apples and oranges because they're designed to achieve completely different things. The purpose of regular cleaning is preventative maintenance, while the goal of periodontal therapy is to stop periodontal disease progression.
Is periodontal therapy vital for me?
The dental hygienist will be able to confirm this for you. If you have multiple pockets (4 mm or more) when you visit the dentist, you are at risk for (or in the early stages of) periodontal disease. In which case you have to consider undergoing periodontal therapy. If not treated, the bacteria that caused the pockets in your gums will continue to cause plaque, tartar, and further bone loss.
Conclusion:
You're not alone if you've been told you need deep teeth cleaning. Gum disease affects over half of adult Americans, according to the American Academy of Periodontology. Still not persuaded? More and more research demonstrates a direct correlation between gum disease progression and the onset of more severe heart disease, diabetes, dementia, and others. In the end, if your dentist or hygienist recommends periodontal therapy to address periodontal disease, you owe it to your overall health to follow through. We strongly advise you to arrange an appointment with us right away.
Do you know someone who truly needs a dentist? We'd be delighted to assist. On our website, you can schedule an appointment.