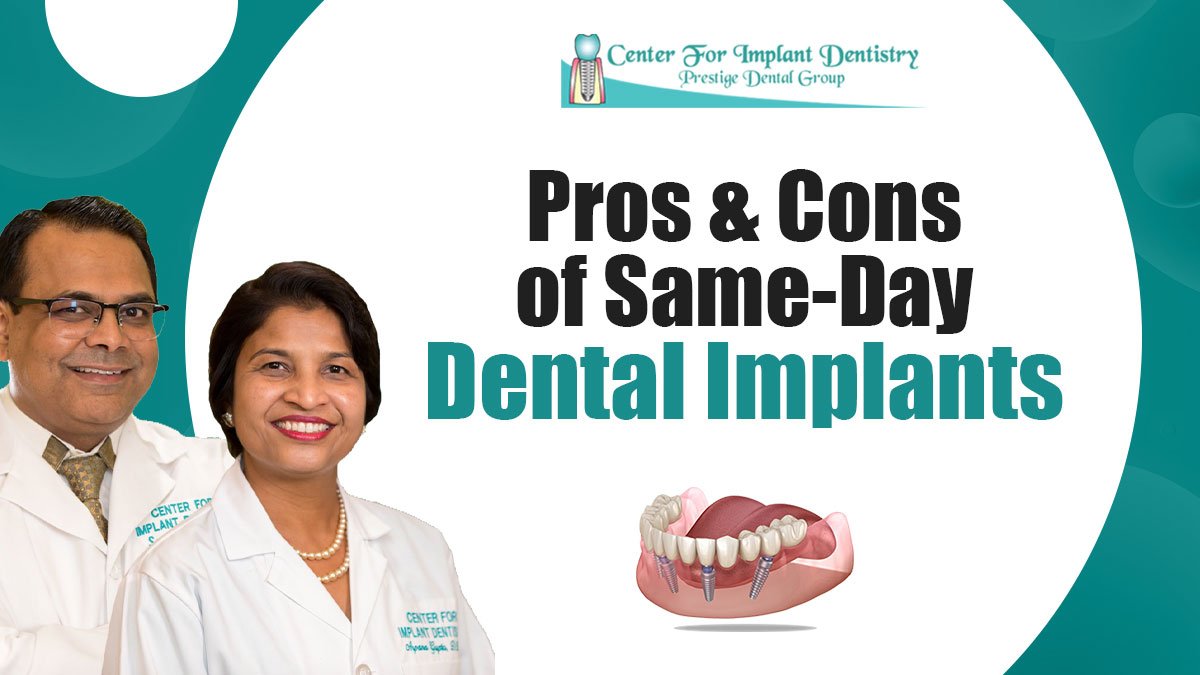 Pros & Cons of Same-Day Dental Implants
Patients suffering from severe tooth pain and who have lost one or more teeth understandably wish to be replaced as soon as feasible. Dental implants are frequently a good option. A considerable number of dentists are now offering same-day dental implants, which are placed and loaded virtually instantly utilizing modern procedures. The traditional implants are placed in position and allowed to heal for a period of 3 months before replacement. In the case of single-day implants Even if the implants are filled with new restorations right after surgery, they still need to integrate with the bone; even the tiniest movement can obstruct this process.
The implants are entirely secured by the bridge with same-day, implant-supported bridges, assuring no Interference in the healing process. The implant-supported crown is manufactured in a way it is not in contact with opposing dentition when this approach is used to restore a single tooth. For same-day procedures, small-diameter implants, or SDIs, are sometimes employed. Using flapless surgery procedures, small-diameter implants are routinely used for implant-supported dentures.
When this therapy is successful, patients report a high degree of pleasure because they can have their implant surgery and new teeth on the same day. Patients will not have to wear an uncomfortable partial or complete denture while their implants recover with same-day dental implants. People afraid of losing their teeth for an extended period will find treatment intriguing. Patients can eat and chat in relative comfort during the healing process, causing minimal disturbance to their daily lives. The techniques utilized for same-day dental implants have been thoroughly evaluated and do not jeopardize the treatment's long-term success.
"All-on-Four" is one of the most popular same-day dental implant methods. When a complete arch of teeth is supported by only four dental implants and the stresses applied on the implants are directed at an oblique angle, this is referred to as obtuse arch support. Bone grafting is sometimes required to be done before the implant procedure with this treatment since the placement of the dental implants maximizes the utilization of accessible bone, particularly in locations where it is naturally thicker. It can help people save money without sacrificing the quality of their results.
Same-day implants do not negate the need for osseointegration. Before the treatment may be considered a success, the implant must securely merge with the patient's jawbone. That implies the patient must continue to follow all of the dentist's dental hygiene guidelines following the operation. Failure to do so can lead to future issues.
Sticking to softer foods and avoiding habits like smoking and biting on hard things are often the best choices for sufferers. If you don't, the implant may move out of place. The implant usually takes three to six months to permanently integrate with the surrounding bone tissue. Are you considering getting same-day replacements for your lost teeth? Please make an appointment with one of our dentists today to discuss your choices.
Conclusion
Every aspect of life has advantages and disadvantages. It would help you if you considered what is crucial to you, whether same-day dental implants or same-day delivery. However, speak with your dentist beforehand to see if you're a good candidate for the quick process. If that's the case, you could be smiling the next day.