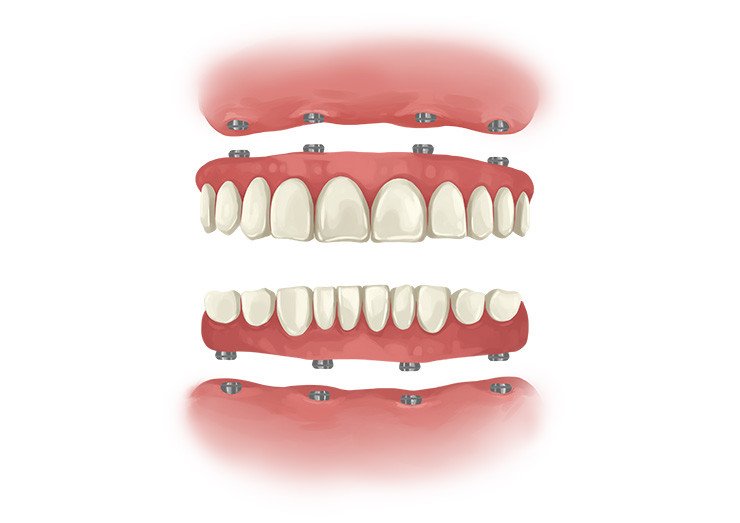 Are you missing all or most of your teeth? Then you should get full teeth implants. Full mouth dental implants can replace your natural teeth and tooth roots and restore your oral functionalities and smile. 
What are full teeth implants? 
Full mouth dental implants act as replacement tooth roots to which a complete bridge is attached. The procedure involves placing of four or six (sometimes even eight) dental implants in each jaw to which one entire dental bridge is attached to replace all your natural teeth. 
Why should you choose to get full mouth dental implants? 
Full teeth implants are a much better option compared to other teeth replacement alternatives. Here are a few reasons why:
Durability – If proper oral hygiene is maintained, full mouth dental implants can last longer than any other teeth replacement options. Adequate care can even make your implants last more than 15 years. 
Comfort – Since dental implants are surgically placed in your jawbone, they are remarkably secure and stable and thus more comfortable than conventional dentures. They also give you a more natural biting and chewing capability. 
Preservation – Since dental implants are surgically placed in your jawbone, they prevent your bones from resorbing and keep them healthy and intact. 
Easier maintenance – Since dental implants are permanently attached to your jawbone, they are easier to take care of. You must take care of them as you would take care of your natural teeth. You don't need to do anything extra or more specific to the implants. 
Do you want to go for this better solution to replace your teeth? Then give our experts a call at CID. We can help you give your lost smile and oral capabilities back and help you live a healthy oral life again.