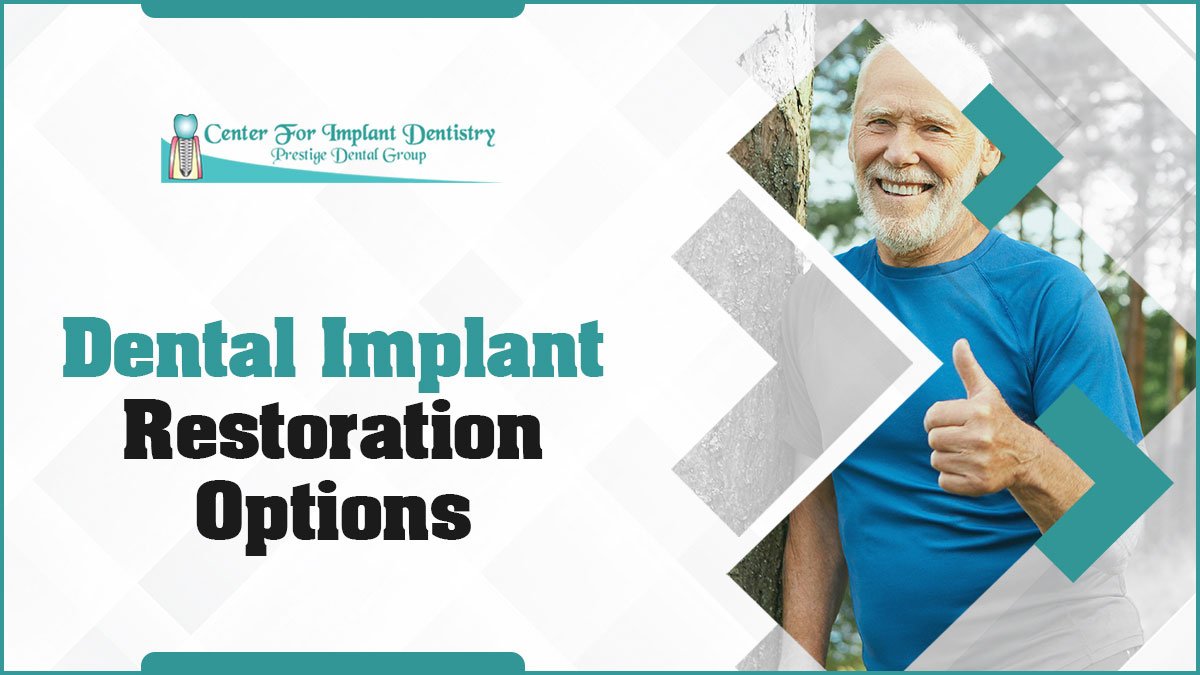 Introduction
Dental implants are the most acceptable replacement option for lost teeth in terms of their capacity to improve your smile's health, function, and beauty. They prevent jawbone degradation, preserve the remaining teeth from slipping out of place, secure restorations, and give the mouth a natural appearance. Furthermore, dental implants can be utilized to replace a single lost tooth, multiple missing teeth</a >, or all of your teeth.
This is because dental implants can be utilized to secure a variety of restorations. We can attach a denture to dental implants at the Center for Implant Dentistry. Continue reading to learn more about our all on four dental implants and dental implant restoration alternatives.
Dental Crowns For A Single Missing Tooth
We can couple dental implants with a dental crown to preserve your oral health, whether you are losing a single tooth due to genetics, an accident, or an oral health concern. In this scenario, we will put the dental implant into the gap created by your lost tooth. If you're getting treatment years after losing your tooth, we may have to make room for the implant.
You'll need three to six months to recover once the implant is implanted. The surrounding bone will develop around the implant during this time, known as osseointegration, securing it in place. During this period, a temporary replacement may be used. After the healing time is over, your dentist will put a custom-made crown that matches your adjacent teeth' size, shape, and color, covering the gap in your smile and giving it a natural appearance.
A Bridge Can Be Used To Replace Many Losing Teeth
A dental bridge is the most critical therapeutic choice if you lose two or more teeth in a row. A bridge comprises two or more artificial teeth fused to replace a gap in the mouth. A bridge does not need a 1:1 all-on-four dental implants</a > ratio, unlike a dental crown. We can usually utilize fewer implants to hold your bridge in place than there are substitute teeth.
The denture will be constructed specifically for you to fill in any gaps in your upper or lower arch caused by lost teeth. The partial denture will next be secured with dental implants that will be appropriately placed.
All Of The Teeth Can Be Replaced With A Full Denture
A complete denture is the best option if you lose all of the teeth in your upper arch, lower arch, or both. All On 4 Dentures Fremont may employ the All-on-4 procedure to replace your teeth in this circumstance. In this procedure, four dental implants are placed in the respective arch. The implants are instantly connected to a complete denture, effectively restoring your grin.
To sustain a complete denture with regular dental implants, patients with low jawbone density might potentially benefit from mini dental implants. This treatment option is also great for those searching for a low-cost therapy alternative.
In any instance, we'll create a natural-looking denture that blends in with your existing characteristics and enhances your overall appearance.
Request an appointment with the Center For Implant Dentistry today to see whether you are a good candidate for dental implant-supported restorations.